Journal Inovasi dan Teknologi (Inovtek) Polbeng is a scientific research-based journal. The name INOVTEK Journal Polbeng is used because INOVTEK Journal Polbeng is a pioneering journal of Bengkalis State Polytechnic since 2011. Scientific articles can be in the form of research results, original research articles, reviews and scientific studies. Based on the focus and scope of the journal, articles that can be loaded in this journal include:
Engineering (marine technology)
INOVTEK POLBENG  is an open-access journal. Readers may read, download, copy, distribute, print, search, or link to the full texts of these articles without any charge. All submitted papers are peer-reviewed before being accepted for publication. The authors who intend to submit manuscripts to INOVTEK POLBENG  should follow the norms described in the guidelines.
Each volume in a year is published in electronic form with a different number. The publication with the number 1 in June and number 2 in November.  The language used in this journal is Bahasa Indonesia and English.
INOVTEK POLBENG  has been ACCREDITED in SINTA 5  since 2018 until 2020 by Directorate General of Strengthening Research and Development-Ministry of Research, Technology and Higher Education-Republic of Indonesia in 2018 for Volume 8 Number 1 to Volume 10 Number 2 with No 36/E/KPT/2019.
Journal title
Inovtek Polbeng: Jurnal Inovasi Teknologi Politeknik Negeri Bengkalis

Initials
IP
Frequency
2 issues per year
DOI
Prefix 10.35314 by Crossref

ISSN
Media Online : 

2580-2798

Media Print :  

2088-6225

Acreditation
SINTA 5 36/E/KPT/2019
Editor-in-chief
Budhi Santoso
Managing Editor
Supianto
Publisher
P3M Politeknik Negeri Bengkalis
Citation Analysis
Google Scholar, Crossref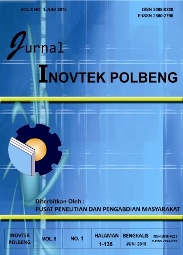 Announcements
PENGUMUMAN

 INFO TERBARU :
Penerimaan paper inovtek  untuk VOL.13 NO.2, Nopember 2023. Mulai Bulan Juli 2023


Posted: 2018-08-16
Vol 13, No 2 (2023): VOL 13 NO 2
Table of Contents
Articles
Fredderik Yodianto

|

Abstract views:

8 | PDF views: 2

113-126
Ajiawan Dwi Nugroho

|

Abstract views:

0 | PDF views: 1

127-132
Samaluddin Samaluddin

|

Abstract views:

1 | PDF views: 1

133-139
Moh. Syaiful Amri

|

Abstract views:

14 | PDF views: 2

140-146
Abdul Gafur

|

Abstract views:

13 | PDF views: 0

147-154
Romadhoni romadhoni, Budhi Santoso, Budhi Santoso, Bobi Satria, Budhi Santoso, Aprizawati Aprizawati, Bobi Satria, Bobi Satria, Aprizawati Aprizawati, Aprizawati Aprizawati

|

Abstract views:

6 | PDF views: 1

155-161
Heni Siswanti, Siti Ahdiatun Nurzanuba, M. Musta'in

|

Abstract views:

17 | PDF views: 2

162-170
Ahmad Yasim

|

Abstract views:

12 | PDF views: 1

171-178
Rita - Hariningrum, Candra - Yogatama, Candra - Yogatama, Sukarno Budi Utomo, Sukarno Budi Utomo

|

Abstract views:

1 | PDF views: 0

179-187
Hardiyanto Hardiyanto, Zulyani Zulyani, Jamal Jamal, Muhammad Helmi

|

Abstract views:

6 | PDF views: 1

188-196
Benedicta Dian Alfanda

|

Abstract views:

12 | PDF views: 1

197-204
suardi suardi suardi, Muhammad Uswah Pawara, Muhammad Uswah Pawara, Faisal Mahmuddin, Faisal Mahmuddin, Syerly Klara, Syerly Klara, Muhammad Rusdy Alwi, Muhammad Rusdy Alwi, Abdul Basiq Zainal Abidin, Abdul Basiq Zainal Abidin

|

Abstract views:

2 | PDF views: 1

205-214
Rhahmi Adni Pesma

|

Abstract views:

21 | PDF views: 3

215-224
Edi Haryono

|

Abstract views:

3 | PDF views: 1

225-233
Desta Rifky Aldara

|

Abstract views:

11 | PDF views: 1

234-242
Muhammad Uswah Pawara

|

Abstract views:

7 | PDF views: 1

243-249
Cover dan Daftar Isi VOL. 13 NO 2 2023
Admin Inovtek

|

Abstract views:

7 | PDF views: 2