Jurnal Inovasi Bisnis (Inovbiz) focuses on how we gain knowledge through innovation and how knowledge encourages the innovation both in economics and business. It is provided for writer, researcher, professor, and practitioner who want to publish their research reports or articles, theoritical or critical study, original and up to date ideas.
Inovbiz has a broad scope in the following areas:
Inovbiz is an open access journal. Readers may read, download, copy, distribute, print, search, or link to the full texts of these articles without any charge. All submitted papers are peer reviewed before being accepted for publication. The authors who intend to submit manuscripts to Inovbiz should follow the norms described in the guidelines.
Each volume in a year is published both in electronic and printed form with a different number. The publication with the number 1 is June and the number 2 is December.  Language used in this journal is Bahasa Indonesia and English.
Journal title
Inovbiz: Jurnal Inovasi Bisnis

Initials
Inovbiz
Frequency
2 issues per year
DOI
Prefix 10.35314 by Crossref

ISSN
Media Online : 

 

2614-6983 Media Print :  

 

2338-4840
Acreditation
on process
Editor-in-chief
Tri Handayani
Managing Editor
Hutomo Atman Maulana
Publisher
P3M Politeknik Negeri Bengkalis
Citation Analysis
Google Scholar, Crossref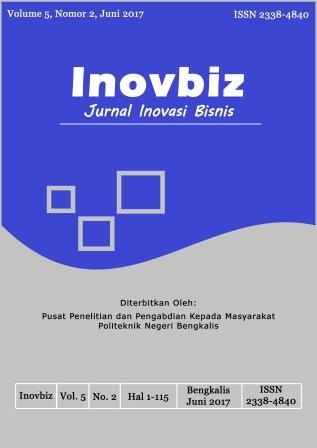 Announcements
Call For Manuscripts

Jurnal Inovasi dan Bisnis (Inovbiz) Call for Papers 2019

We invite you to submit your paper to Inovbiz. The editorial board welcomes complete unpublished and original works on inovation, economics and business. Papers submission deadlines:
Vol. 7 No. 1 2019, submission deadline: 1 May 2019 (extended until  31 May 2019)
Vol. 7 No. 2 2019, submission deadline: 1 November 2019

Submit your manuscripts here through our online journal system.

Posted: 2019-05-01
Vol 7, No 1 (2019)
Table of Contents
Articles
Adhikara Joshua Sutisna, Martani Huseini

|

Abstract views:

11 | PDF views: 0

1-7
Zulyani Zulyani, Hardiyanto Hardiyanto

|

Abstract views:

1 | PDF views: 0

8-14
Novi Shintia, Muhammad Teguh Nuryadin, Waldi Anwar

|

Abstract views:

1 | PDF views: 0

15-19
Lucky Nugroho, Evi Aryani, Akhmad Amien Mastur

|

Abstract views:

7 | PDF views: 0

20-26
Sari Sari, Tri Handayani

|

Abstract views:

0 | PDF views: 0

27-33
Tri Wahyuarini, Evi Sofianan, Syarifah Novieyana

|

Abstract views:

4 | PDF views: 0

34-41
Suharyono Suharyono

|

Abstract views:

0 | PDF views: 0

42-47
Yuni Mutia Astiti, Martani Huseini

|

Abstract views:

1 | PDF views: 0

48-53