Jurnal Inovasi Bisnis (Inovbiz) focuses on how we gain knowledge through innovation and how knowledge encourages the innovation both in economics and business. It is provided for writer, researcher, professor, and practitioner who want to publish their research reports or articles, theoritical or critical study, original and up to date ideas.
Inovbiz has a broad scope in the following areas:
Economics
Business
Management
Inovbiz is an open access journal. Readers may read, download, copy, distribute, print, search, or link to the full texts of these articles without any charge. All submitted papers are peer reviewed before being accepted for publication. The authors who intend to submit manuscripts to Inovbiz should follow the norms described in the guidelines.
Each volume in a year is published both in electronic and printed form with a different number. The publication with the number 1 is June and the number 2 is December.  Started from Vol 9 No.1 2021, Inovbiz only receives articles that written in English.
Inovbiz has been ACCREDITED in SINTA 4  by Directorate General of Strengthening Research and Development-Ministry of Research, Technology and Higher Education-Republic of Indonesia in 2019 for a period of five years started from September 26, 2019 with No 28/E/KPT/2019.
Journal title
Inovbiz: Jurnal Inovasi Bisnis

Initials
Inovbiz
Frequency
2 issues per year
DOI
Prefix 10.35314 by Crossref

ISSN
Media Online : 

 

2614-6983 Media Print :  

 

2338-4840
Acreditation
SINTA 4 SK. No. 105/E/KPT/2022
Editor-in-chief
Bustami
Managing Editor
Larbiel Hadi
Publisher
P3M Politeknik Negeri Bengkalis
Citation Analysis
Google Scholar, Crossref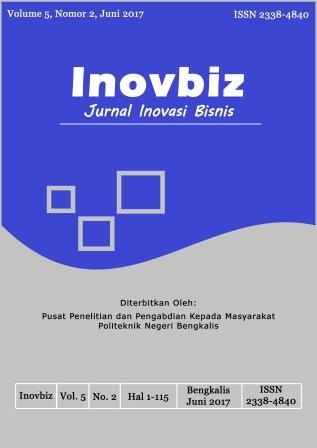 Announcements
Call For Manuscripts

Inovbiz: Jurnal Inovasi Bisnis Call for Papers 2020

We invite you to submit your paper to Inovbiz. The editorial board welcomes complete unpublished and original works on inovation in economics and business. 

Each edition will be consist of at most 20 articles, more than that will be scheduled in the next edition with author's confirmation, please make sure to leave your phone number/whatsapp so we can contact you

.  Papers submission deadlines:
Vol. 11 No. 2, 2022, submission deadline: 1 OCTOBER 2023 (English only)


Submit your manuscripts by using INOVBIZ Template through our online journal system. If you need more guidance on how to submit a paper, please download here.

Only paper with INOVBIZ Template that will be processed.

Best regards,

Editorial Team

Posted: 2023-09-17
More...
Vol 11, No 1 (2023)
Table of Contents
TABLE OF CONTENTS
cover,daftar isi,Redaktur

Tim Redaktur

|

Abstract views:

6
Articles
Jesica Santoso, Mariana Ing Malelak

|

Abstract views:

116 | PDF views: 0

1-8
Budi Kristanto, Jann Hidajat Tjakraatmadja, Rudy Bekti

|

Abstract views:

92 | PDF views: 0

9-19
Devi Putri Ayu Febrianti, Bowo Santoso, Bowo Santoso

|

Abstract views:

59 | PDF views: 0

20-25
Larbiel Hadi

|

Abstract views:

115 | PDF views: 0

26-33
Riny Chandra, Tengku Putri Lindung Bulan

|

Abstract views:

76 | PDF views: 0

34-40
Faizal Mulia Z, R. Deni Muhammad Danial, Anggia Puspa Ardiani

|

Abstract views:

118 | PDF views: 0

41-48
Husnul Muttaqin

|

Abstract views:

48 | PDF views: 0

49-55
Fendy Cuandra

|

Abstract views:

91 | PDF views: 0

56-64
Wita Dwika Listihana, Idel Waldelmi, Afvan Aquino

|

Abstract views:

28 | PDF views: 0

65-73
Lady Lady, Verren Calystania, Vira Vira, Jessica Novia, Veni Sisca, Stephanie Stephanie

|

Abstract views:

112 | PDF views: 0

74-89
Wahyu Kurniawan, Suhartini Suhartini, Andriyastuti Suratman

|

Abstract views:

83 | PDF views: 0

90-97
Novia Utami

|

Abstract views:

51 | PDF views: 0

98-102
Jhonny Se

|

Abstract views:

160 | PDF views: 0

103-109
Azwin Handoko, Suyono Saputra

|

Abstract views:

178 | PDF views: 0

110-120
Nageeta Tara Rosa, Muhammad Arif, Adrian Irnanda Pratama

|

Abstract views:

115 | PDF views: 0

121-128
Monica Adjeng Erwita

|

Abstract views:

188 | PDF views: 0

129-134
Caroline Oktavia Gunawan, Kazia Laturette, Yopy Junianto

|

Abstract views:

106 | PDF views: 0

135-141
Vania Audrey Alexandria, Wirawan Endro Dwi Radianto

|

Abstract views:

182 | PDF views: 0

142-148