Jurnal Inovasi Bisnis (Inovbiz) focuses on how we gain knowledge through innovation and how knowledge encourages the innovation both in economics and business. It is provided for writer, researcher, professor, and practitioner who want to publish their research reports or articles, theoritical or critical study, original and up to date ideas.
Inovbiz has a broad scope in the following areas:
Inovbiz is an open access journal. Readers may read, download, copy, distribute, print, search, or link to the full texts of these articles without any charge. All submitted papers are peer reviewed before being accepted for publication. The authors who intend to submit manuscripts to Inovbiz should follow the norms described in the guidelines.
Each volume in a year is published both in electronic and printed form with a different number. The publication with the number 1 is June and the number 2 is December.  Started from Vol 9 No.1 2021, Inovbiz only receives articles that written in English.
Inovbiz has been ACCREDITED in SINTA 3  by Directorate General of Strengthening Research and Development-Ministry of Research, Technology and Higher Education-Republic of Indonesia in 2019 for a period of five years started from September 26, 2019 with No 28/E/KPT/2019.
Journal title
Inovbiz: Jurnal Inovasi Bisnis

Initials
Inovbiz
Frequency
2 issues per year
DOI
Prefix 10.35314 by Crossref

ISSN
Media Online : 

 

2614-6983 Media Print :  

 

2338-4840
Acreditation
SINTA 3 SK. No. 28/E/KPT/2019, Certficate
Editor-in-chief
Tri Handayani
Managing Editor
Hutomo Atman Maulana
Publisher
P3M Politeknik Negeri Bengkalis
Citation Analysis
Google Scholar, Crossref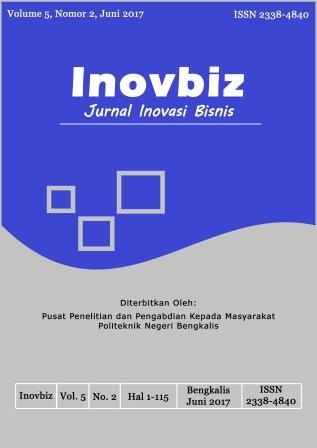 Announcements
Call For Reviewers

Inovbiz: Jurnal Inovasi Bisnis Call for Reviewers


We invite you to join us as a reviewer. Participation in the peer-review process is absolutely essential to the reputation of the journal. Reviewers and editors determine which works are of quality and significance. Reviewers' name and affiliation will be listed in the printed journal and on the journal's webpage as a member of editorial board.

Job status: part time
Working style: Web-based (OJS)

Working language: Bahasa and English


Posted: 2019-07-01
More...

Call For Manuscripts

Inovbiz: Jurnal Inovasi Bisnis Call for Papers 2020

We invite you to submit your paper to Inovbiz. The editorial board welcomes complete unpublished and original works on inovation in economics and business. 

Each edition will be consist of at most 20 articles, more than that will be scheduled in the next edition with author's confirmation, please make sure to leave your phone number/whatsapp so we can contact you

.  Papers submission deadlines:
Vol. 9 No. 1 2021, submission deadline: 1 March 2021 (English only)


Submit your manuscripts by using INOVBIZ Template through our online journal system. If you need more guidance on how to submit a paper, please download here.

Only paper with INOVBIZ Template that will be processed.

Best regards,

Editorial Team

Posted: 2019-05-14
More...
Vol 8, No 2 (2020)
Table of Contents
Front Matter
Cover, Editorial Team, Table of Content

Tim Editor

|

Abstract views:

1 | PDF views: 0
Articles
Didik Prianto

|

Abstract views:

50 | PDF views: 1

128-133
Katarina Rosyantika Sinaga, Ira Siti Sarah

|

Abstract views:

162 | PDF views: 1

134-142
Ali Mujahidin

|

Abstract views:

218 | PDF views: 2

143-150
Onita Sari Sinaga, Debi Eka Putri, Astri Rumondang Banjarnahor, Fitria Halim, Fitria Halim, Acai Sudirman

|

Abstract views:

72 | PDF views: 1

151-157
Agung Yoga Asmoro, M. Nilzam Aly, Handika Fikri Pratama

|

Abstract views:

127 | PDF views: 1

158-169
Dwi Astuti, Nazrantika Sunarto, Supriati Supriati

|

Abstract views:

27 | PDF views: 1

170-174
Farah Putri Wenang Lusianingrum, Lina Affifatusholihah, Soletahin Ika Putri

|

Abstract views:

64 | PDF views: 1

175-181
Muhammad Ichsan Hadjri, Badia Perizade, Zunaidah Zunaidah, Wita Farla WK

|

Abstract views:

83 | PDF views: 1

182-192
idel waldelmi, afvan Aquino, aljufri aljufri

|

Abstract views:

34 | PDF views: 1

193-199
Dedi Iskamto

|

Abstract views:

41 | PDF views: 1

200-207
Sri Raharso

|

Abstract views:

68 | PDF views: 1

208-222
Tri - Widiastuti

|

Abstract views:

43 | PDF views: 1

223-230
Dimas Adha Septyan

|

Abstract views:

67 | PDF views: 1

231-238
Edy Dharma, Sherly Sherly, Humiras Betty Marlina Sihombing, Darwin Lie

|

Abstract views:

45 | PDF views: 1

239-243
Afifah Afifah

|

Abstract views:

19 | PDF views: 1

244-248