Journal Inovasi dan Teknologi (Inovtek) Polbeng Seri Informatika (ISI) Politeknik Negeri Bengkalis is an informatics journal based on scientific research. This journal is expected to be a forum for all academics, researchers, and practitioners to disseminate research results. Inovtek Journal Polbeng - Informatics Series publishes manuscripts relating to Web and Mobile Computing, Image processing, Intelligent Systems, Information Systems, Databases, DSS, IT project management, Geographical Information Systems, Information Technology, Computer Network and Security, Wireless Sensor Networks, and others. 
ISI is an open-access journal. Readers may read, download, copy, distribute, print, search, or link to the full texts of these articles without any charge. All submitted papers are peer-reviewed before being accepted for publication. The authors who intend to submit manuscripts to ISI should follow the norms described in the guidelines.
Each volume in a year is published in electronic form with a different number. The publication with the number 1 in June and number 2 in November.  The language used in this journal is Bahasa Indonesia and English.
ISI has been ACCREDITED in SINTA 3  by Directorate General of Strengthening Research and Development-Ministry of Research, Technology and Higher Education-Republic of Indonesia in 2019 for Volume 4 Number 2 to Volume 9 Number 1 with No 36/E/KPT/2019.
| | |
| --- | --- |
| Journal title | : Inovtek Polbeng Seri Informatika |
| Initials | : ISI |
| Frequency | : 2 issues per year |
| DOI | : Prefix 10.35314 by Crossref |
| ISSN | : 2527-9866 |
| Accreditation | : SINTA 3 SK. No. 36/E/KPT/2019 |
| Editor-in-chief | : Agus Tedyyana |
| Managing Editor | : Jaroji |
| Publisher | : P3M Politeknik Negeri Bengkalis |
| Citation Analysis | : Google Scholar, Crossref |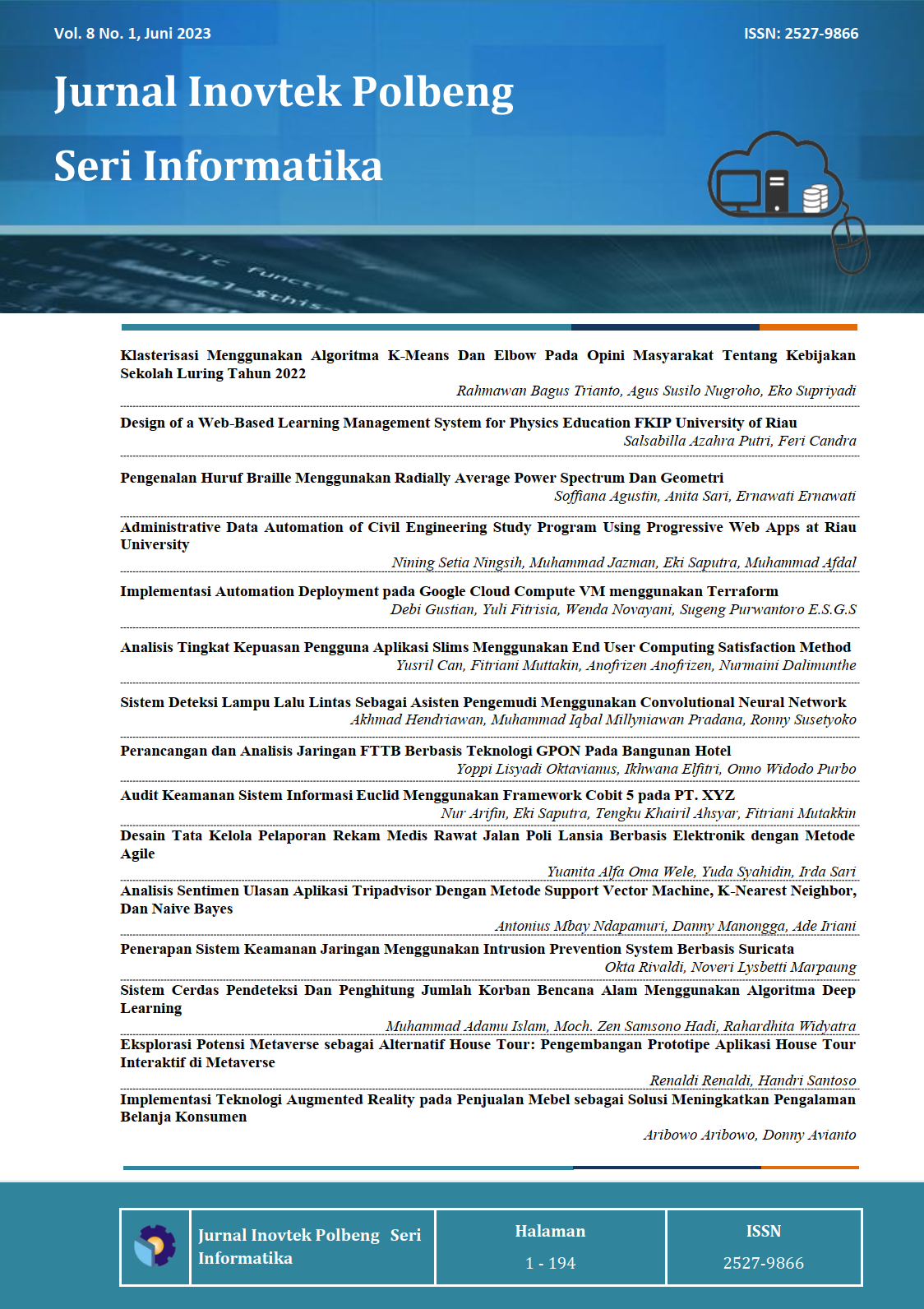 Announcements
No announcements have been published.
Vol 8, No 2 (2023)
Jurnal Inovasi dan Teknologi Seri Informatika (Jurnal Inovtek Seri Informatika) merupakan jurnal informatika berbasis penelitian ilmiah.  Jurnal Inovtek Seri Informatika terbit 2 kali dalam setahun. Secara berkala Jurnal Inovtek Seri Informatika terbit setiap bulan Juni dan November.
Table of Contents
Articles
Afriza Meigi Zukhruf, Aris Puji Widodo, Eko Sediyono

|

Abstract views:

33 | PDF views: 7

195 - 204
Theo Servis Bantang, Adi Nugroho

|

Abstract views:

41 | PDF (Bahasa Indonesia) views: 6

205 - 214
Mutia Mustika Rani, Feri Candra

|

Abstract views:

36 | PDF (Bahasa Indonesia) views: 4

215 - 227
Salsabilah Aulia Rahman, T. Yudi Hadiwandra

|

Abstract views:

25 | PDF (Bahasa Indonesia) views: 1

228 - 242
Irma Salamah, Sherina Humairoh, Sopian Soim

|

Abstract views:

47 | PDF (Bahasa Indonesia) views: 7

243 - 255
Rifat Sulthon, Sawali Wahyu

|

Abstract views:

30 | PDF (Bahasa Indonesia) views: 2

256 - 270
Elisabeth Eunike Switenia Laowo, Yada Syahidin, Irda Sari

|

Abstract views:

28 | PDF (Bahasa Indonesia) views: 5

271 - 280
I'tishom Al Khoiry, Dhea Rizky Amelia

|

Abstract views:

43 | PDF views: 13

281 - 290
Agnes Frenica, Lindawati Lindawati, Lindawati Lindawati, Sopian Soim, Sopian Soim

|

Abstract views:

46 | PDF (Bahasa Indonesia) views: 10

291 - 304
Andreas Marbun, Noveri Lysbetti Marpaung

|

Abstract views:

24 | PDF (Bahasa Indonesia) views: 0

305 - 315
Rikky Febi Irwanto, Sawali Wahyu

|

Abstract views:

55 | PDF (Bahasa Indonesia) views: 7

316 - 330
Ardi Setyo Nugroho, Sukirman Sukirman

|

Abstract views:

26 | PDF (Bahasa Indonesia) views: 7

331 - 342
Isfazriah Rahmaliani, Falaah Abdussalaam, Erik Gunawan, Matoeari Soelistijaningrum

|

Abstract views:

33 | PDF (Bahasa Indonesia) views: 7

343 - 355
Indra Indra, Nahya Nur, Muh. Iqram, Nurul Inayah

|

Abstract views:

40 | PDF (Bahasa Indonesia) views: 8

356 - 367
Eka Rani Noviana, Noveri Lysbetti Marpaung

|

Abstract views:

31 | PDF (Bahasa Indonesia) views: 4

368 - 380
Fauzan Adzhima, Elvia Budianita, Alwis Nazir, Fadhilah Syafria

|

Abstract views:

70 | PDF (Bahasa Indonesia) views: 12

381 - 392
Muhammad Albani, Rahmat Rizal Andhi

|

Abstract views:

30 | PDF (Bahasa Indonesia) views: 11

393 - 406
Yori Aldrin, Yori Aldrin Lysbetti Marpaung

|

Abstract views:

32 | PDF (Bahasa Indonesia) views: 6

407 - 418
Fakhrusy Syakirin, Mona Fronita, Eki Saputra, Medyantiwi Rahmawita

|

Abstract views:

41 | PDF (Bahasa Indonesia) views: 6

419 - 430
Prayugo Pangestu, Rice Novita, Mustakim Mustakim

|

Abstract views:

34 | PDF (Bahasa Indonesia) views: 5

431 - 440
Adzra Fakhira, Fitri Insani, Muhammad Irsyad, Yelfi Vitriani, Fitra Kurnia

|

Abstract views:

48 | PDF (Bahasa Indonesia) views: 12

441 - 451
Istianah Muslim, Sugeng Purwantoro E.S.G.S, Amos Ivan Nugraha

|

Abstract views:

50 | PDF (Bahasa Indonesia) views: 9

452 - 463
Fajar Ratnawati, M. Asep Subandri, M. Afridon

|

Abstract views:

50 | PDF (Bahasa Indonesia) views: 3

464 - 471
Kevin Wiguna, Deni Mahdiana

|

Abstract views:

78 | PDF views: 12

472 - 483
Wawan Herwansyah, Novery Lysbetti Marpaung

|

Abstract views:

13 | PDF (Bahasa Indonesia) views: 1

484 - 497
Al Hanif, Rahayul Amri, Rahayul Amri

|

Abstract views:

11 | PDF (Bahasa Indonesia) views: 0

498 - 501
Intan Nurrahma, Febi Nur Salisah, Tengku Khairil Ahsyar, Medyantiwi Rahmawita

|

Abstract views:

8 | PDF (Bahasa Indonesia) views: 1

502 - 515
Jaroji Jaroji, Fajri Profesio Putra, Fajar Ratnawati

|

Abstract views:

12 | PDF (Bahasa Indonesia) views: 1

516 - 523